We met the artist Sylvia Antoniadi in a group exhibition titled "At the Studio" and curated by Hera Papapostolou at the Hellenic American Union .
Interview Zeta Tzioti
Translation Evi Malliarou
This exhibition has been set through the artistic creation and the function of photographs as a document in order to present the unseen artist 's side and his solitary work. The photographic material is exhibited along with the works that the artists were painting while being photographed.
The exhibition includes 36 photographs by Manos Spanos, paintings, engravings and sculptures by 18 contemporary Greek artists.
We admired Sylvia's work titled "Sigilla Ǽternitatis" – of which we have heard that there was a strong buying interest – and talked with her about her work and her future plans.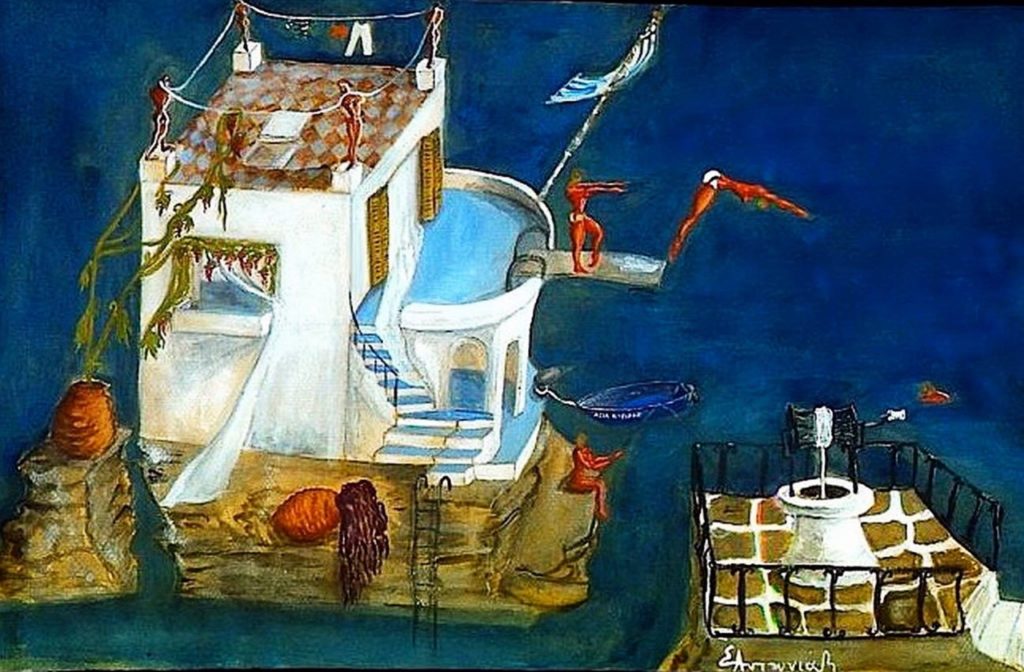 -Who are the masters of art that influenced you?
-I am attracted to fantasy or visionary painting, such as that of William Blake and then of Goya, moving from the paradise images of happiness to the stressful gloom. There are many great painters I love and I can't decide who influenced me. It is the emotion-born painting that impresses me the most. Shall I say it is Ernst, Dix, Delvaux? Whom shall I say first?
-Literature, music, and poetry.
What is their place in your art?
-Pure passion and its essence are what the soul demands, and this is what captivates me. Things that make you feel full of purpose.
Can you listen to Verdi's "Macbeth" and not understand what a complete work of art means? Read Dostoevsky's "Crime and Punishment" and not feel it as part of your own life? Not feel shocked? Or get into Baudelaire's poetry and not realize what it is like to fight against human limits?
What remains through the great works of art in my work is the consciousness, the knowledge, the understanding of how to complete the course of desire. The journey of the soul. Because we want to complete this course we expect everything around us to be involved in this process. Words and music have come out of us and are the medium of our expression, of our need. We want something from Art, we demand it, and we have it.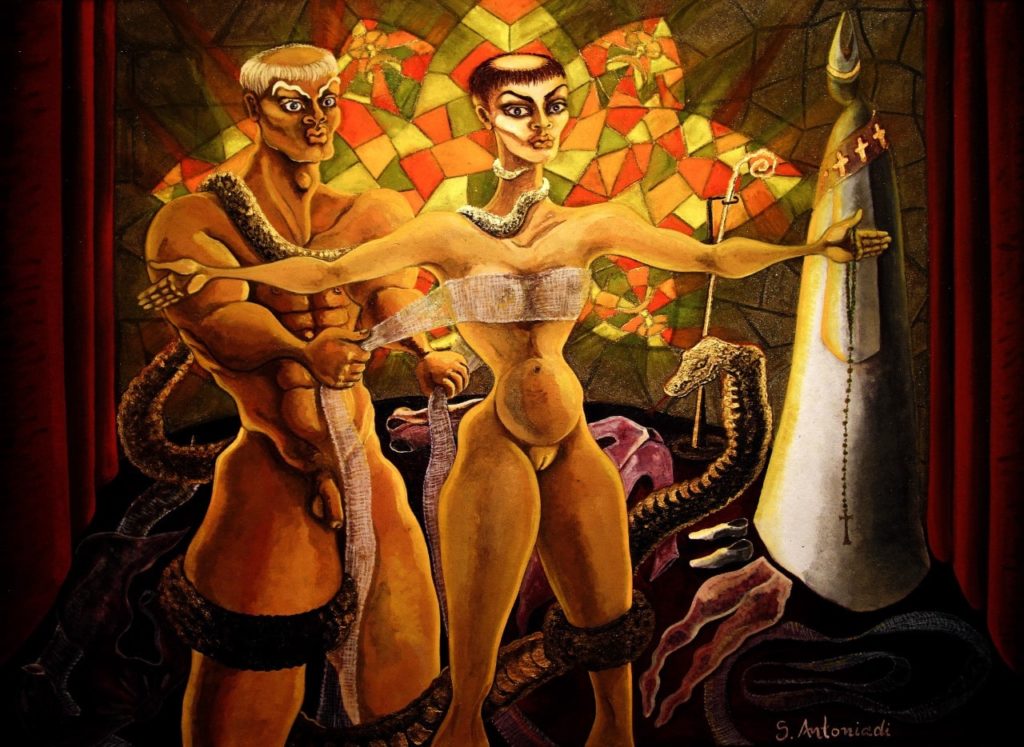 -Which is the role of light and color in your paintings?
-I think that, in my case, light moves through color. By this, I mean that I do not use the source of light in its natural state, but I usually move the source of light in an anarchic way, directing it at my will. Light is Fire and Fire is color. Color, after splitting into its infinite variety, becomes instinct.
-In your paintings, we see symbols and archetypes. Would you like to talk to us about them?
-Symbol, for me, is the dense energy from a shape that transmits intense information. The archetype is the form, a vivid image of the unconscious. The mother, for example, is an archetype. This concept encapsulates specific information forming a code. Of course, it does not have a single manifestation but contains mutations, such as those of Eve, Virgin Mary, Medea, etc. Yes, I use symbols and archetypes as materials for my images.
-Finally, could we say that in your art you capture your own inward, secret aspects?
-Through my work, I record the evolution in my senses, understanding, and perception. What I think and visualize is a composition that invites the viewer to "see" what I see. The images I am driven to see in scenes are not tangible, but mental. After all, what I capture in painting has no hidden aspects since my imagination is myself. But the very work I have produced creates its own secret aspect.
-In 2018 you illustrated the cover of Honore De Balzac's novel "Modeste Mignon" for Gutenberg Publishing House. Please, let us know about this work.
-I admire Balzac, and I love making book covers when the authors are an inspiration to me.
The theme of this book highlights the conviction and power of female authority.
Modeste Mignon is an archaic "kore", eternally young. She has the right by nature to hold an elaborate horsewhip. Riding the horse means controlling herself. I paint a picture full of youth and bliss in the female soul, enclosing within it her other half.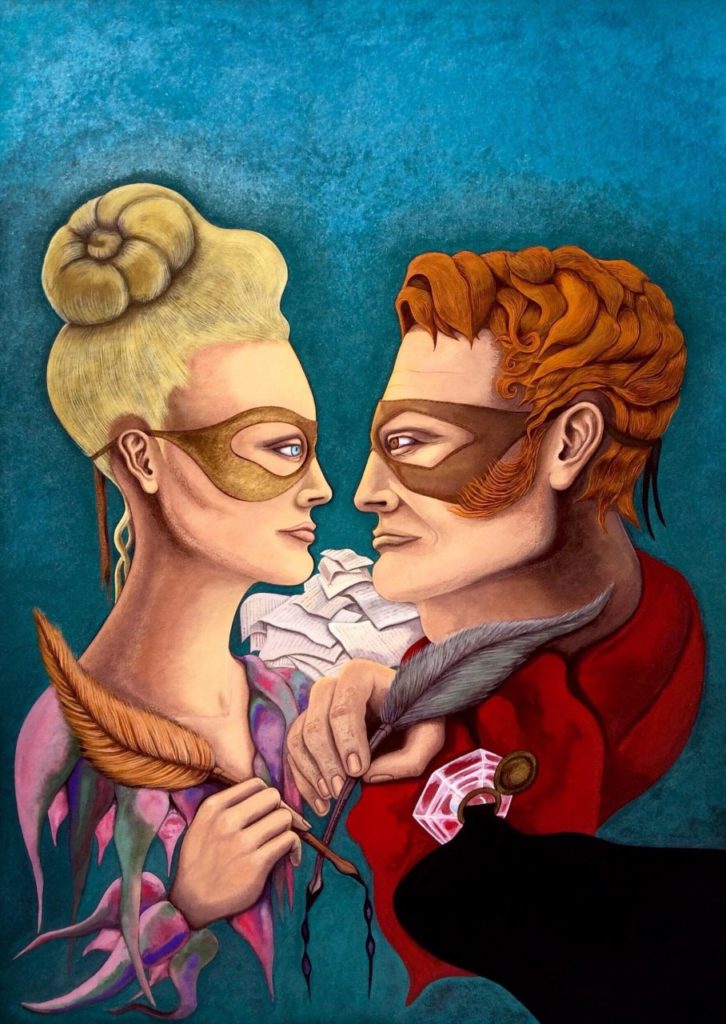 -Which are the sections you can divide your work?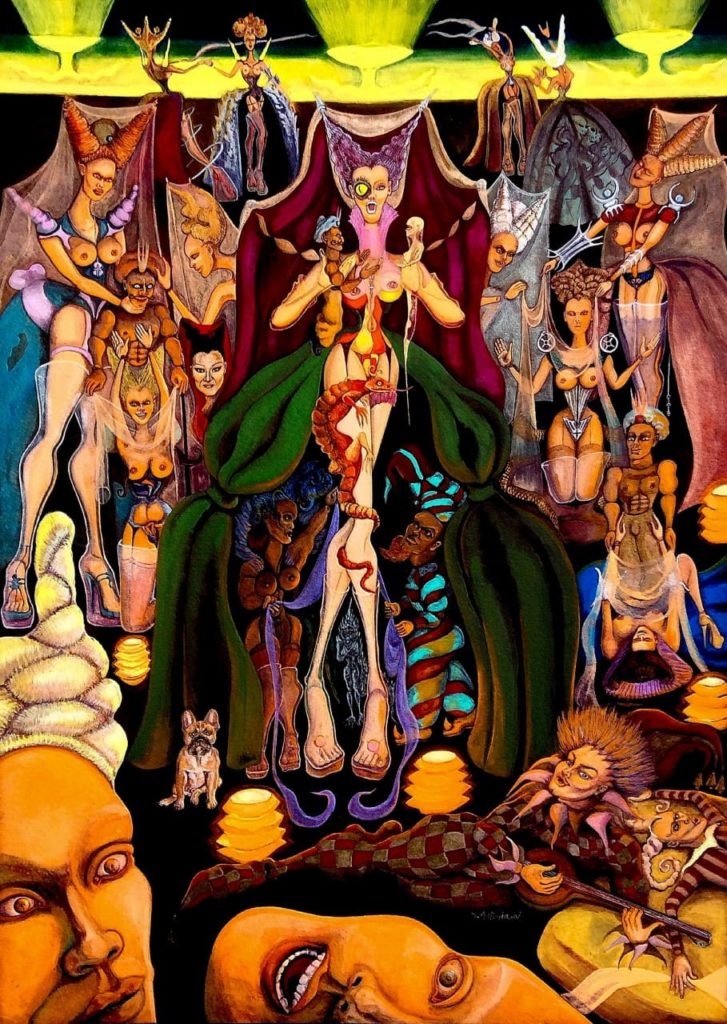 -The first period until 2001 includes the section "Cycladeans", a reference to the Minoan frescoes. It is a series of watercolors with female figures, large oils, pastels, acrylics, and colored pencils.
In 2002, I started "Don Giovanni" a section referring to Mozart's opera, featuring oils, watercolors, and pastels.
Since then and until 2013, the series "Operatic Anthology" was created based on major plays of the opera.
In 2014, I started the "Literary Aspects" section with themes from major works and movements in world literature. These sections, since their beginning and each one separately, continue to be enriched from time to time with new works I create.
-Could you tell us about the exhibition you are taking part in now?
-I am taking part in the work "Sigilla Ǽternitatis" in "At the studio", curated by Hera Papapostolou and Manos Spanos, in the Hellenic American Union. The exhibition will last until February 1, 2020.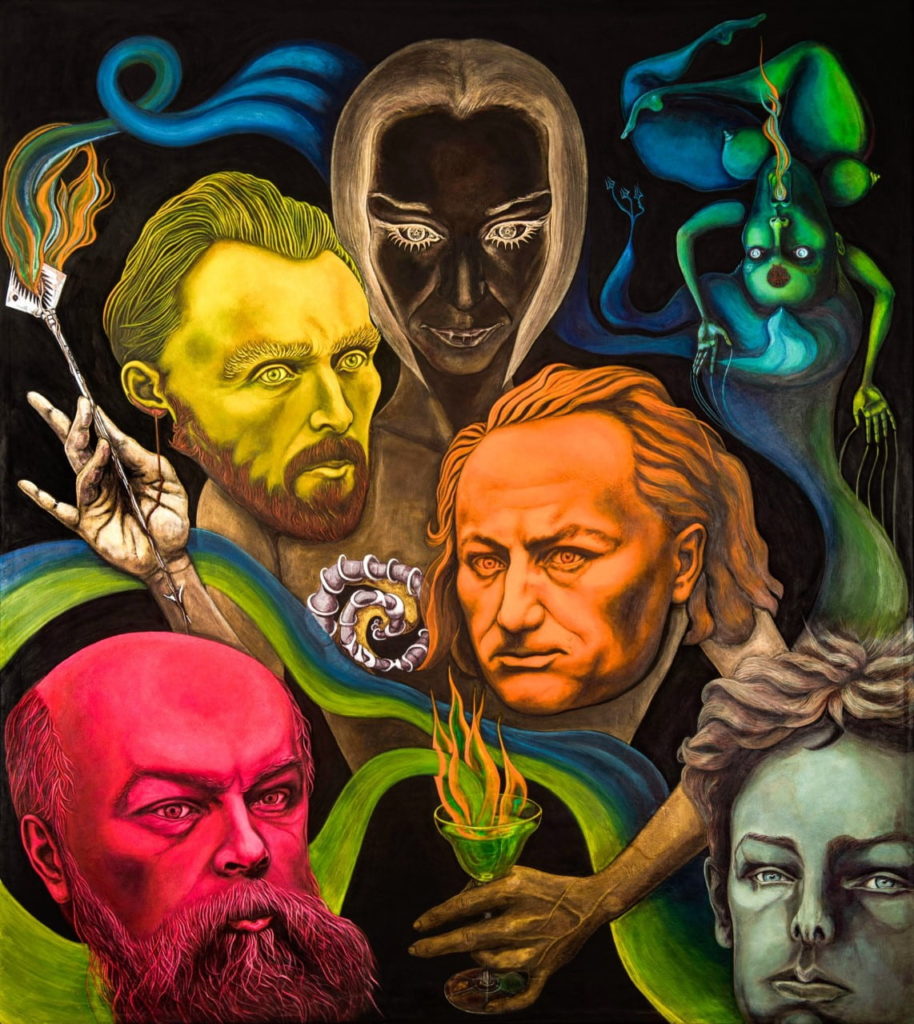 -Future plans…
-I am currently working on a set of new works that will be material for my next solo exhibition.